Purification Process
After Safe Water Africa selects a church and pastor in need of safe water, we purchase portable chlorination technology and equipment in the USA and have it delivered to Vision for Ministries Foundation in Tanzania. After funding is raised and provided, the Foundation in Tanzania purchases the required water tanks, installs the foundations and piping and then installs and starts up the chlorination equipment which can purify 2000 liters (500 gallons) of stored water in a few hours.
The portable chlorination system produces chlorine by electrolysis using power from a car battery and only needs table salt and water to prime the process. The chlorine is injected into the water as it is pumped from the tank bottom back into the tank top and kills pathogens in the water. The system is simple to operate even in areas where there is no power supply, and there is minimal upkeep. The team in Africa installs the system and then follows up by providing a health and hygiene clinic to the people who live in the area. These systems now provide clean drinking water to thousands of people and have resulted in significant decreases in water borne and other diseases. Safe Water Africa purchases the chlorination equipment in the US, sees that it is transported safely and inexpensively to Tanzania, and funds the entire installation project. The total installed cost of each project is approximately $5,000; however, the benefit to the people they serve is priceless.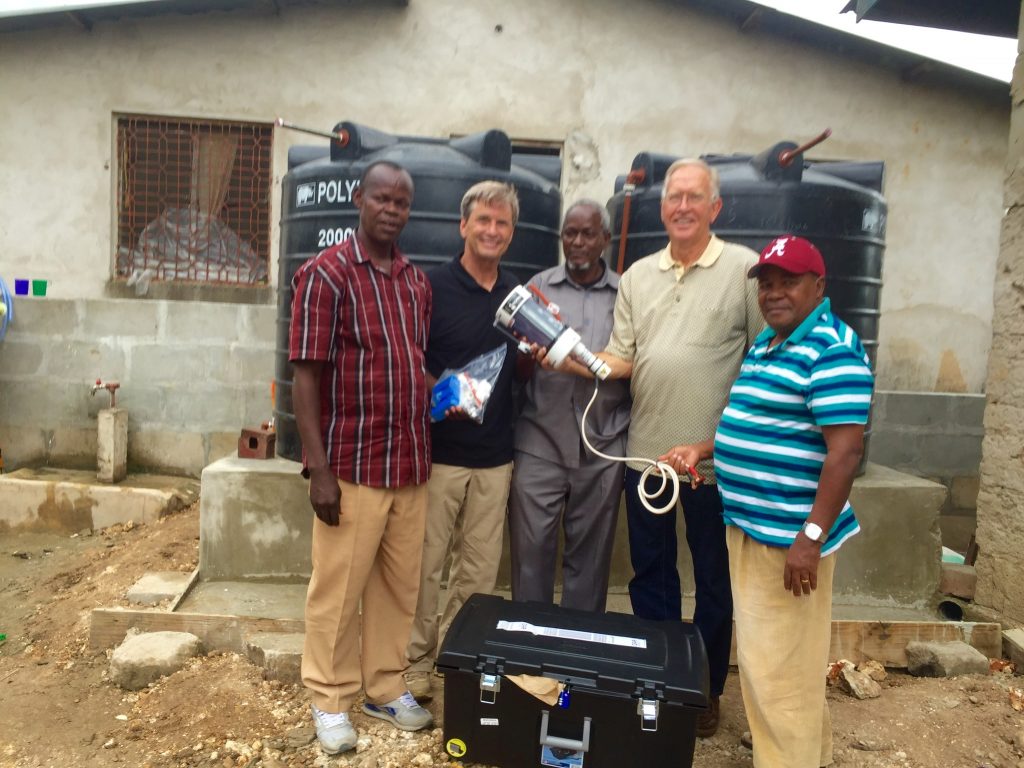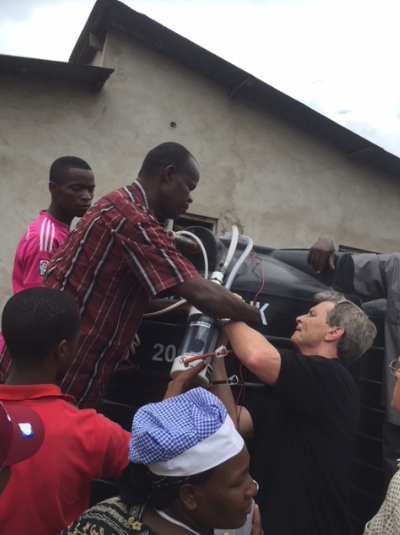 Once equipment and funding is provided by Safe Water Africa, the local trained personnel manage and execute the on-site construction, start-up, operational training and hygiene clinic for the church and community. All on-site work is carried out by our local personnel without the need or cost to fly USA technicians to Tanzania which makes this a very cost effective process.
Benefits of our safe water chlorination ministry:
Kills all bacteria in water including Cholera, Botulism, Typhoid, Amoebic Dysentery, E. Coli, Streptococcus, Salmonella, etc.
Avoids expense and breathing smoke fumes from cutting and burning wood for boiling water.
Communities spend less time in medical clinics and more time to faith, worship, education and commerce.
Equipment is portable and can be moved from water tank to water tank.
Only resources needed for start-up is simple table salt and a car battery.
Efficient projects. After equipment ships from USA the trained local technicians complete the tank installation and start-up. Flying technicians from the USA is not necessary.
Efficient ministry. All administrative staff are volunteers so 100% of funds go direct to water projects.
Attracts communities to the church where they can hear the Gospel of Jesus Christ.
$50

Battery

$100

Pump

$500

Water Tank

$900

Chlorinator

$6,000

Complete System
All our US administration personnel are volunteers