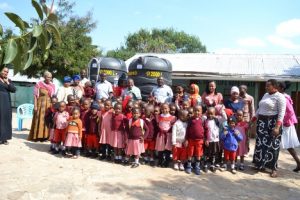 Thank you for your support!   
With your help, by the summer of  2021, Safe Water Africa (www.safewaterafrica.com), assisted by our partner Joel Rugano (Vision for Ministries Tanzania), will have funded and installed fifty (50) safe water purification systems (6 this year) in Tanzania for rural pastors on church property. These systems will provide clean safe drinking water for thousands of men, women and children at 50 different rural churches and communities in 13 provinces (regions) of Tanzania where they also provide an invitation tool for pastors to share the "living water" and the Gospel with their communities. Illnesses and deaths from contaminated water have been reduced greatly and many have been introduced to the Gospel. Thousands of lives have been improved by this "living water"
Six (6)  additional projects are in the planning phase for completion in 2021 which will bring  the total to fifty six(56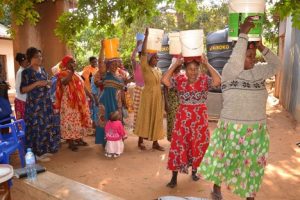 ) project installations on church property in Tanzania serving thousands of men, women and children. These safe water projects save lives and improve the health of each surrounding community and draw people to the church to hear the Gospel message. Safe Water Changes Everything!
Below is a testimonial letter from Pastor Simon Vomo outlining the benefits of the safe water project installed at his church
TAG SUYE REVIVAL CHURCH-Arusha, TANZANIA, East Africa 
Wayne Hudson-President SafeWaterAfrica USA                                         
APPRECIATION FOR SERVICES RENDERED BY YOUR MINISTRY  Greetings in the Name of our Lord and Savior Jesus Christ. We are fine in this part of the world, continuing to serve God to the best of our ability and by the help of His Holy Spirit. He enables us to face ALL the numerous challenges we face every day, and gives us the victory.
This is a brief note, written to do what the heading says, i.e. to thank you for what your ministry has done. This note does not say everything we have benefitted by your ministry, just a few.
1)CHURCH GROWTH : Because of the clean water provided by your ministry, our attendance has grown to 100, from 45 before you installed the water tanks. Truly, living water speaks to people. Our model is that an evangelist speaks to the people BEFORE they take the water, prays for their needs, etc, then they draw and go home. What they have heard continues to speak to them, and we see new people coming to church and wanting to receive Christ every other Sunday and during mid week services. Praise God!                                       2)HEALTH BENEFITS : Because the water provided is plenty, clean and safe, there is an increase in healthy children in the area, who do not suffer from stomach aches, diarrhea, and many water borne diseases. Many many adults have also benefited from the clean safe water, and complaints about stomach aches, diarrhea and such like water borne illnesses have dropped significantly. This contributes so much to the positive response of the local people to the good news of Christ, because the water has become a hook to bring them to Christ. Of course the work of  the Spirit plays a big part in drawing them, because they see love at work. We praise God for your ministry, and even though there are a few challenges here and there, God will help us sort them out.
Sincerely,
SIMON AND NAOMI VOMO on behalf of the congregation at TAG SUYE Church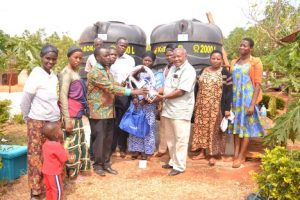 DONATE: We would love for you to join us to help support our next 6 projects www.safewaterafrica.com/donate/